TIPS FROM A BLOG ARTICLE WRITING SERVICE
How to Write the Perfect Blog Article
Writing the perfect company blog is no easy feat, but a quality blog article writing service can help.
Your content has to be equal parts informative, strategic, and engaging.
The tricky part, even for a writer with an expert blog article writing service, is finding how to go about that without the piece being dense or bland, losing the attention of your audience.
Don't worry about finding the perfect balance to walk that line–as a company that has written tens of thousands of blog articles for our clients, we've got a few tips for you!
Here is how to compose a perfect blog article for your company blog!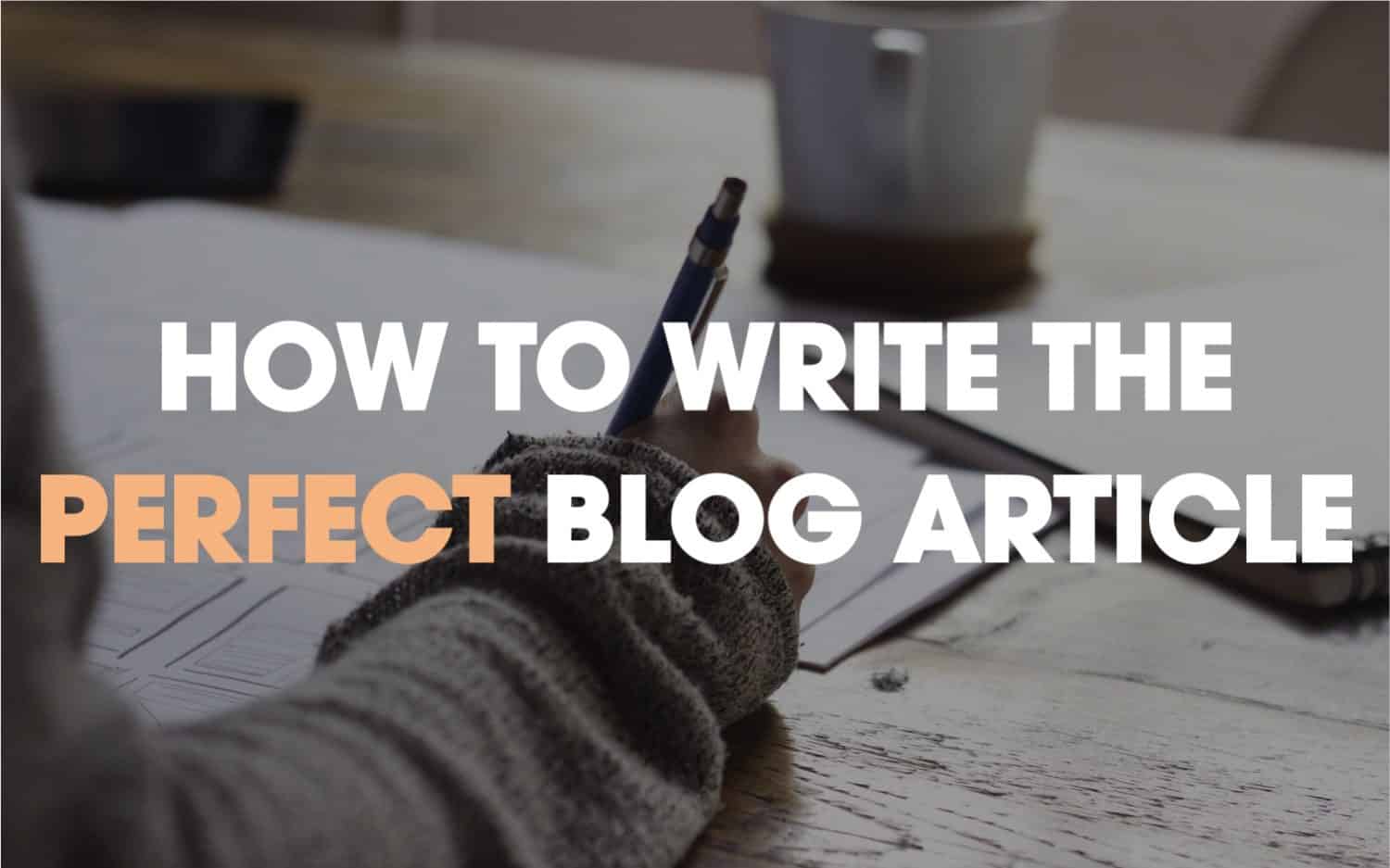 1. Generate an idea
Put on your hat with the little light bulb above it and get to work thinking of a great idea!
What makes up a great blog idea for a company blog?
What are we writing about? What story should we tell? How do we keep plugging away if we don't know what to write about, arghhhh!!!
Here are some tips…
What's in the news?

Is there anything news-worthy that you can hijack and write an opinion on?

The List Article.

Ahhhh listicles, everyone's favorite. No seriously, if you are stuck just start thinking through some potential lists that would be relevant to your audience.

The How-To.

Listen, you have a business and your audience/customers love you because of your expertise so be humble about it and share this expertise. Put together a serious How-To guide on some micro piece of your business.

A Curation Post.

Similar to a Listicle, grab a number of resources and list them out.

Experiment or Episodic Content.

This takes a bit of planning on the front end of things, but you'll capture your readers at the start and keep them vested this way. The idea is to run your own experiment or discuss a topic or process through a series of updated posts.
Once you know what kind of blog you'd like to do, come up with a list of potential topics, and collaborate with others within the company or a professional content writer to select the topic.
2. Select a title
As any blog article writing service will tell you, this is a VERY important step in creating your perfect blog as the title holds a lot of value in the success of your blog, but don't get caught up in overthinking it.
Keep it interesting.
Keep it relevant.
Keep it keyword optimized.
And…
Keep it under 50 characters.
3. Introduction
Think of this as a legit in life introduction…
If we met on the street, I wouldn't say:
"Yeah, I love mac and cheese, I have 2 dogs and a cat, oh yeah and my name's Tara."
Why would I tell you those things, why should you care? And why would something so important to our introduction (my name) be an afterthought?
Instead keep it relevant to the topic, illuminate why your reader should continue reading, don't be boring, and get the overall idea of what you would like the post to accomplish right away.
Oh, and AVOID rambling at all costs.
4. List all the points you'd like to make subheadings
Listing out the main points you want to elaborate on pull the piece together with the organization it needs.
Subheadings should be directly related to the topic and organized in a way that will produce the most sensible, intriguing article.
Here's an example…
6 Reasons Why Social Media Marketing Works for Businesses
Intro
Reach of the platform

Thought leadership

Ability to interact with prospects and clients

ROI is measurable

Grow your online following

Increase brand recognition
Conclusion
It's extra helpful to write notes under each subcategory about things you don't want to forget to touch on within in them.
BAM! Your outline is complete now on to the good stuff.
5. The ritual opening of tabs
Get all 50 of those tabs open and start researching your topic.
Even as an industry leader, industry-specific writer, or professional content writer–it's still a must to research heavily to provide the informative aspect of the post.
Use this time to gather interesting quotes and stats about your topic.
6. Write!!!
Before you write a single word, remember this quote from Lee Odden, CEO of TopRank Marketing and digital marketing influencer,
"A blog is only as interesting as the interest shown in others."
Keep
who
you are writing for in the front of your mind and strive to give
them
valuable, actionable information.
Now, you can use the outline you created to guide the rest of the article.
After you've completed the meat of the blog, polish it off with a shining conclusion.
Any good blog article writer knows that your conclusion should be a wrap up, not a repeat of the article and don't forget your call to action!
7. Add bonus material
When editing the piece, you'll find that certain spots need to be elaborated on more or need more research to back them up.
Open those 50 tabs again and give your blog the extra information muscle it needs.
This is also a great time to go in and add backlinks to your site where appropriate just for that extra marketing push.
8. Don't finish, ask questions 
Ask two different types of questions:
Questions from your reader
Ask questions your reader would be asking in the beginning and throughout the post and make sure you've answered all of them.
Questions to your reader
Here's a callback to point number 6 of this article (CTA in your conclusion).
Lead up to your CTA by directly asking your readers' questions that will get them to take action when you call them to it.
Here's an example from an experienced blog article writer…
"Have you tried social media marketing for your company?
I mean really tried (not letting your secretary run your Facebook when she feels like it). Did you see results?
Unless you are strategically content marketing via your social platforms, of course you aren't seeing results.
Hire us to strategize, market, manage, and build your social media platforms today!"
9. Rewrite your title
"What?! Rewrite my title? But, but I worked so hard on it in the first place!"
I know. It seems counterintuitive, but here is a pro tip for you…
After you've written the content for the blog, you may have found that while you stayed on topic, you've written where there is a more fitting or interesting title for it.
Rewrite it to fit the content you have in front of you while keeping in mind the rules from point number 2.
10. Publish and share
Phew! You've slaved away on this baby and now it's time to introduce it to the world!
All there is left to do is format accordingly, keyword optimize it, and publish.
Once it's published, hand it over to your social media manager to share, share, share!
You don't have to do it on your own – use blog article writing service
Here is the part of the article where I, a professional content writer for Article-Writing.co, take all my own advice and ask you a few questions, leading up to my call to action. 🙂
Do you have someone in-house to produce content and manage your blog?
No, not Jim from accounting. Someone with experience that knows what they're doing?
Article-Writing.co has a vetted team of professional copywriters and editors with a range of industry expertise to write the most effective content for your company blog. We're a blog article writing service you can trust.
Hire Article-Writing.co today, the best blog article writing service around, to write the perfect blog article for you!
The ultimate goal of content marketing is offering your target audience information and materials that will engage them and motivate them to choose your business. 
Seems easy, right? 
Often, companies will simply share general content to please everyone. But let's be honest: you can't win them all. And that's okay! 
Rather than throwing a line and hoping the fish will bite, create Thought Leadership content strategically catered to your target market. Consider the people who would genuinely need or care about what your business offers, rather than wasting time, effort, and resources on creating general, unfocused content. Successful content marketing involves promoting your products and services to the people interested in the subject matter, who will read the content, click on your company website, and take action. 
As an executive of an organization, you are a valuable piece of the brand. Consumers want to know about the human presence leading companies, in order to understand more about the company's values and goals. 
Take advantage of your position as an industry expert and share extra content to attract more attention to yourself as an industry leader and your company. Your quality content will build your reputation as a reliable voice to earn your consumer's trust. However, if it's not focused on your target audience, you won't earn many conversions from your content. 
Consider these techniques to guide your Thought Leadership content so it can expand and strengthen your loyal consumer following:
Identify your target audience

by reviewing your current consumer data and identifying who is investing in your business or reacting to your thought leadership materials so far. Look for trends to find why these people are interested and if others like them haven't been reached yet. 

Conduct customer research

to learn how they will respond to your thought leadership content. Request participation in surveys, polls, social media comments, and more to learn about your existing impression on your audience and how you can improve your platform. 

Create target audience character profiles

. Identify their interests, demographics, pain points, needs, and desires, and write to them.

Find where your current and potential audience is active online.

 Catch their attention by being active and sharing your content marketing materials on these platforms.

Pull inspiration from other Thought Leader examples.

Research other executives within your field who implement successful content marketing through their personal platforms. Learn what qualities make their content attractive and why readers respond to it positively. These examples can offer a base for you to visualize what you want to achieve. 

Recognize your strengths as a Thought Leader.

Often, leaders aren't necessarily aware of the unique talents that give them an advantage in their industry until asked. Reflect on what topics you know best and how to input your insights to humanize your materials, make them original and more engaging for your audience.

 
Case Study: How Strategic Content Marketing Can Broaden Your Audience
In our client strategy calls, our team will interview our expert clients to learn about their industry expertise and find out what's meaningful to them, their business, and then identify who we believe to be their target audience. We use these insights to inspire our content subject matter and tone to create impactful content for their current and potential consumers.
For example, our client, Dr. Nitin Desai, approached our strategy team to create content to promote his COVID Pre-Check app. His innovative software is intended to help employers ensure their employees who enter the office are COVID-free, providing a safe environment by eliminating the chance of spread. 
Our team of strategists recognized that with Dr. Desai's thorough professional knowledge around the COVID-19 virus, he had the potential to become a reliable voice in a culture of people seeking answers. We created content for Dr. Desai that focused on sharing COVID-related insights to reach a wider audience, which has been a successful mission. Our thoroughly planned content reflected his industry expertise, which brought him attention from various media outlets and publications, including Forbes. 
By reaching out to our professional content marketing team, Dr. Desai achieved his goal of promoting his groundbreaking app, while also positioning himself as an authoritative voice in his field. Our team learned about his voice, discovered what was meaningful to him and his target audience, and optimized this to create focused, engaging content that broadened his consumer scope. 
Ready to Invest In Your Article-Writing.co Thought Leadership Package? 
At Article-Writing.co, we understand that you have a lot on your plate. Let us share your voice on your behalf, so you don't need to add more time to your busy schedule to write your own content marketing. Our strategists and creators will develop a plan to create engaging materials to represent your Thought Leader brand through your own specialized Thought Leadership Package. 
Let us help you strengthen and broaden your consumer base for continued professional success. Book a call today.