Almost every business needs to learn how to hire a web copywriter. It's where most consumers get information about different businesses and the products and services they provide. 
Creating a website is becoming much easier than it used to be with the launch of user-friendly website-building services like those available from Squarespace, Wix and WordPress. But just because small business owners can quickly design a website themselves doesn't mean that it will be effective. 
The purpose of any company website is to provide information to consumers. As a business owner, this means that you need to put copy, or text, on every page of your website to ensure that your viewers have the information they need to buy one of your products or services. 
We'll look at what an effective company website looks like, how to write website copy that sells, and how to hire a web copywriter.
What Is Web Copy?
Web copy is any form of writing appearing on a website's pages. Typically, most business websites have the following pages filled in with website copy:
Homepage

Location or service pages

Product descriptions and category pages (usually for

eCommerce websites

)

Contact page
Each page serves a different purpose and should educate the viewer in specific ways. The viewer will land on the page and read the information below regarding who the company is, what it has to sell, the benefits of the company's products and services, and how the viewer can contact the company or visit it in person.
Keywords and SEO
Before we jump into all the copy you'll need for your website; we need to talk about keywords and SEO or search engine optimization. SEO is the process of optimizing a website for search platforms like Google. 
When a person types a certain phrase or keyword into Google, the algorithm will search the internet to find the most relevant content for that particular user. If a person types in "cleaning supplies", they expect to find a number of websites that sell cleaning supplies.
SEO makes your website findable in the jungle that is the internet. In order to optimize your website, you need to come up with a list of keywords that potential customers will use to find whatever products or services you're trying to sell. These keywords should be easily searchable, and they should be relevant to the products, content, and services listed on your website.
To come up with the right keywords, you can try completing the following steps:
Create an account on

Google AdWords

to see what keywords people search for online. This service does cost some money, but prices will depend on how many keywords you're searching. Every keyword will be listed based on how often people are using it to search online. The higher the number, the more competitive the keyword will be.

You can try using information from your social media channels and the search bar on your website to learn more about what kinds of products or services are popular with your customers.

You can also type different phrases and keywords into Google and see what kinds of "related searches" the platform suggests for more ideas.
Generally, it's best to come up with a list of keywords with varying popularity. Using longer keywords and those with less popularity will make it easier for your company's website to stand out online. Still, more popular keywords can be used to reach a wider audience.
If you're a local company looking to connect with people within a specific geographic region, you should use longtail keywords such as "cleaning supplies in Toronto". 
This will help your website rank higher in local markets, and you won't have to compete against companies worldwide.
How to Use Your Keywords
Once you have a list of keywords to work with, you'll need to sprinkle them into the copy on your website and in the title tags and meta descriptions for each page. It's important to choose keywords that blend in naturally with the rest of the content on your website, so you don't need to resort to awkward phrasing when trying to incorporate these keywords into a sentence.
All the copy on your website should flow smoothly to keep the viewer engaged with what's on the page. 
Writing SEO copy for your website can be a hassle. You want to create compelling content that engages readers, drives conversions, and meets Google's standards all at the same time — seems like an impossible task! Fortunately, there is a way to make it easier: by hiring professional copywriters. 
Professional copywriters know how to write SEO-optimized content that will help boost your website's visibility and rankings in search engine results pages. With expert copywriting services at your fingertips, you'll be able to focus on providing the best possible experience for your users without worrying about finding the right words. 
So if you're looking for a painless way to get SEO-friendly content on your site without spending hours over a keyboard and still see great results, call today or click here to get started with our writing services and take advantage of this opportunity today! After all, why put in all the hard work yourself when you can enlist professionals who can do it faster and better? Don't wait — act now and get SEO-friendly written content for your website!
Typically, you only need to use the keyword a handful of times on the page to make an impression on Google, so don't oversaturate your content with too many keywords that will turn the viewer away. Make sure you learn how to hire a web copywriter that's well-versed in SEO and content optimization.
Homepage Content
The homepage is an initial introduction between the viewer that's just landed on your website and your company. Your company's logo and tagline should appear at the top of the page, letting the viewer know they're in the right spot. 
From there, the viewer should see a few more paragraphs about your company and the products and services you provide. You should be able, to sum up your company in a few sentences at the top of the page, so the viewer will know whether or not they're interested in doing business with your company.
The homepage is a great place to convey the story behind your company, including any special products or services that your company is known for, how your company is different from your competitors, and why consumers should be interested in what you have to sell. 
You should break this copy up to keep the audience engaged. 81% of people only skim the content they read online, with the average user reading at most 20 to 28 percent of words during an average visit. This means you can make the most important aspects of your copy stand out using bold headings, bullet points, and numbered lists.
If you run a company that provides many common services or products like an HVAC or plumbing company, the viewer will already have a good idea about the services you provide. 
You can then mention items that make your company stand out, such if you're family owned or operated, how many years you've been in business, and whether your company has any special credentials or accomplishments to its name.
As the infographic illustrates, contact information is one of the most important aspects of any business website. After all, you want your customers to be able to get in touch with you. 
Usually, at the top or bottom of the page, you'll need to include some basic contact information for your company, so viewers can get in touch with you without having to click on another page. This information needs to be consistent across all your business listings online, including Google Plus, YellowPages, and business review websites like Yelp.
To get people to contact your company, you need to provide a CTA or call to action. This is a simple phrase that asks the viewer to complete a certain task such as, "Click on the banner for more information," Contact us for a free estimate," or "Place your order today."
 The CTA should be placed near the contact information or a button corresponding to the action you want the viewer to complete.
 As Kalon Wiggins of Epic Design Labs states, "You have to tell people how to take the next step with you or they can't. Should they email? Call? Fill in a form? Download some content? You need to lead the way."
Product/Service Descriptions
If you provide services to the public or you're selling individual products on your website, you need to write unique descriptions for these products/services, so the viewer has enough information to decide whether or not they want to make a purchase. 
If you're wondering "how to describe the products on my website," try to put yourself in the shoes of one of your customers. What benefits or product features would make you more willing to make a purchase?
The best way to go about writing product descriptions is to relate these specific features to lives of real-life consumers. If a product is known for its durability, you can write about how the customer will save money because they won't have to keep buying the same product repeatedly. If you learn how to hire a web copywriter, they can help you highlight the benefits of your products.
The product or service page of your website is one of the most aspects of your business. Some viewers will even skip right to the product content to save time. In fact, 47% of website visitors check out a company's products/services page before looking at any other site sections. Ensure you're giving views enough information about your products or services without filling up the page with overly sales content.
Location Pages
Many companies will try reaching several markets or communities with their website. This is helpful if a company has several physical locations or ships products to a certain geographic area. If that's the case, you can create different pages for each location or area your company is trying to reach. 
You can use keywords that correspond with this specific market such as "cleaning supplies in Toronto", "cleaning supplies in Ottawa" or "cleaning supplies in Vancouver".
Pillar Posts
Pillar posts are large pieces of content on a website that give the viewer valuable information about a certain topic or issue. Having valuable resources full of information can help you add more value to your website. 
Writing this type of content gives viewers more incentive to visit your website than sales content that doesn't offer the reader much value.
These posts should be geared towards helping the viewer accomplish a certain goal such as "how to organize a closet" or "how to market a new small business" with clear, actionable steps. 
This also helps establish your company as an authority in your industry, helping you prove to your readers that you know what you're talking about and that you have valuable information they can leverage in their own lives, even if they're not buying one of your products or services.
How to Find a Good Copywriter for My Website
Many business leaders don't have the skills to write effective website copy themselves. Writing for a commercial audience requires experience and some marketing know-how. 
While you might be familiar with the ins and outs of your business, turning that information into content that sells is another matter entirely. That's why so many business leaders will need to learn how to hire a web copywriter to help them create compelling copy for their website. People form a first impression in a mere 50 milliseconds, so you need to make every word count.
Bottom line: if you're unsure how to write a website that sells, hiring a professional copywriter may be your best option. A professional writer will have an objective view of your website and its products/services and they will have the tools to help you create an effective message for your business.
How to Hire a Web Copywriter
If you're unsure how to hire a web copywriter, you have a lot of tools at your disposal. You can try finding the right talent for your company by searching for marketing agencies online or by posting a traditional job ad on a job listing website like Indeed or Monster. There have also been a number of freelancing websites popping up in the past few years like Upwork that are better suited for one-time projects like writing copy for your homepage.
When evaluating candidates for a copywriting role, you should ask to see a resume with their previous work experience and a writing portfolio. Typically, you'll want to place more importance on the writing portfolio because this will give you a clear idea of their work. Some writers may have a complicated job or education history that may not accurately reflect their work. When looking through their portfolio, keep an eye out for the following:
History of writing copy related to your industry

Experience writing product descriptions, static copy, and other kinds of website copy

A variety of writing samples that showcases versatility and range

Ability to write in a tone that fits with the rest of your brand
The copywriting business is booming, so you should have no trouble finding a talented writer for your company's content needs. The cost of hiring a professional copywriter can vary dramatically. The average hourly rate for a freelance copywriter is $23/hour, based on industry estimates. 
You can find someone that costs less or more, depending on how much experience they bring. Some copywriting agencies will charge you by the word, sometimes for just 10 cents a word. A more prominent agency will also usually provide a broader range of services, more consistency, and more timely results.
UX/UI Considerations
But writing great copy for your website is only a part of the challenge. You also need to design a beautiful space online that you can use to highlight this information about your business. Keep these UX/UI considerations in mind when designing a new website.
If you want to create an effective website for your company, you also need to create one that's well-designed. People have come to expect certain features when visiting a website. They will typically look for a menu or navigation bar to help them explore more content on the website. This will usually be at the top or in the top right or left-hand corner of the website. The menu should appear at the top of every page, so the viewer can always click around as they see fit.
Regarding navigation and leading users around the website, Sean Harrington, Director of Development at DesignWeb, writes, "Respect their ability to find what they need on their own, but make it easy and intuitive. You need to hold their hands and lead them to the goal. Tell them a story about the product and give them the steps they need to convert to a buyer eventually."
Imagery and Visual Content
The data also shows that your users want stunning imagery when visiting your website. This is an easy way for the viewer to quickly gauge information about your company without having to ready paragraphs about your products and services. People tend to identify with an image more than text, so it can also be a great way to draw the viewer in. 
These photos, videos or graphic should be an extension of your brand, so if you can, try to take original photos that capture the feeling of your brand and the ideas that you're looking to convey.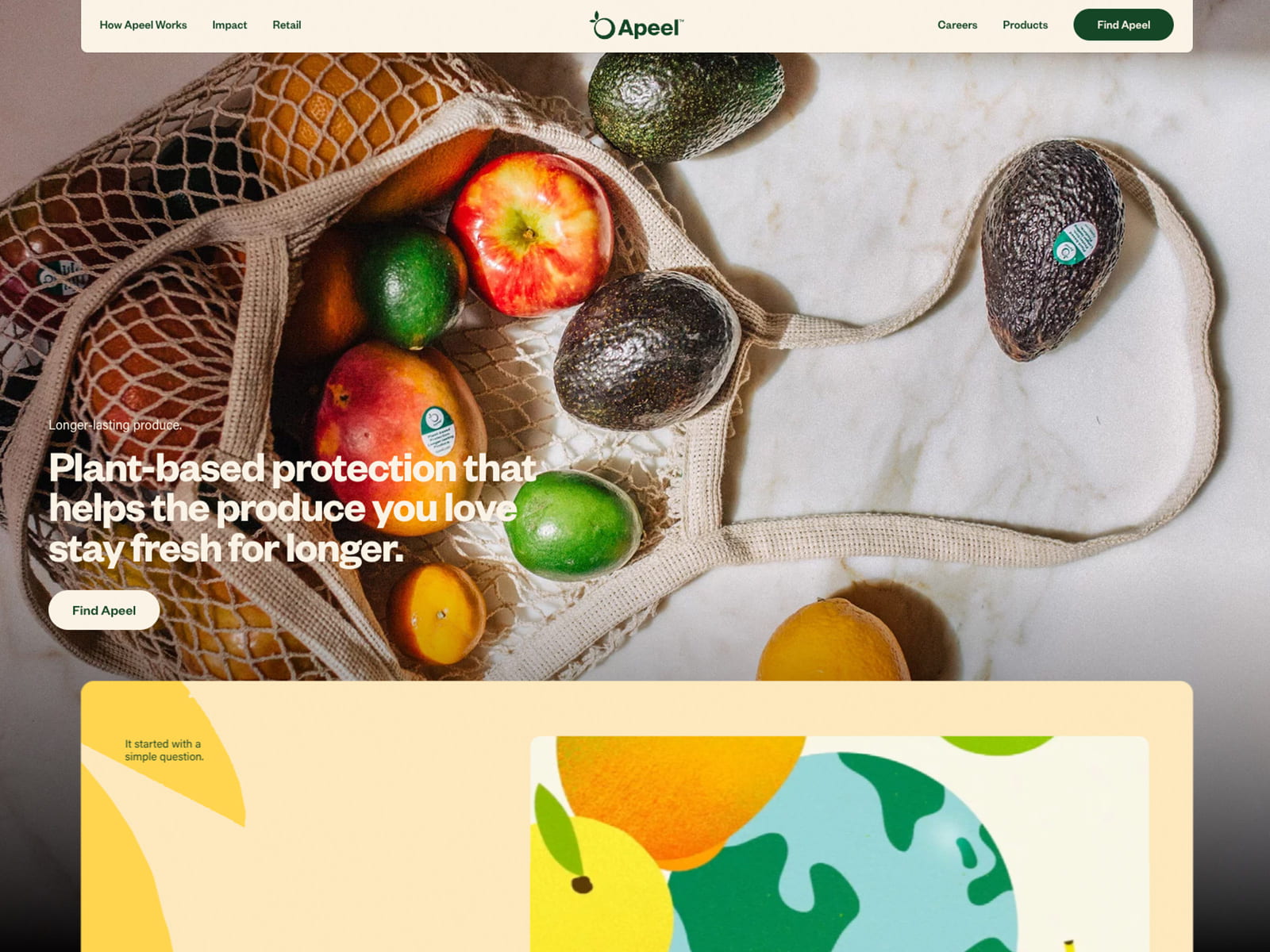 Many of the most popular website-building platforms make it easy to add imagery and videos. All you need to do is drag and drop the image onto your site. 
Whatever content you choose to feature on your website, make sure that it's engaging and fresh to keep your users clicking around for as long as possible. This will also improve your SEO rankings because Google favors websites that people tend to spend a lot of time on.
As Steve Pyatte states, "Business owners must have a professionally designed website with fresh, relevant content on each page. Even the smallest company can appear larger than they are with the right website. Crisp, clear, professionally designed, user-friendly and mobile friendly."
Page Speed and Load time
Your customers also expect your website to load in just a few seconds, otherwise, they will take their business elsewhere. You might think that a few seconds isn't very long, but as this infographic demonstrates, consumers will quickly leave a site if they experience long wait times or anticipate a lengthy checkout process.
Ways to Improve Load Time
If your website is taking a while to load, there are some things you can do to speed up the process. This might be because you have a lot of content on your websites such as high-resolution images, graphics, videos and other multimedia content. Use these tips to speed up your website.
Resize images before uploading them online.

Remove expired links that may be slowing your website down.

Simplify or clean up your website code for more efficiency.

Minimize HTTP requests by consolidating data into similar formats.

Cache content and media by storing it locally for users visiting your website frequently.

Use a CDN or content delivery system with numerous edge servers to bring content to your users. (This can be especially helpful if your users are worldwide.)

Host videos and multimedia content on third-party websites like YouTube and Vimeo.

Host your website on a reputable web host.
Once you've gone through this checklist, your website should move at a faster pace. You can always use webpage performance tools like WebPageTest. You should also try logging onto your website from different locations to see how the load time varies based on your physical location.
Bringing Your Website Together
When building a successful website for your company, you need to create quality copy that informs and engages the viewer without overwhelming them with overly sales content. You need to learn how to hire a web copywriter, so you can use your website to convey the ideas and story behind your business. 
This content should chiefly educate the viewer, giving them more incentive to buy one of your products and services. This copy should contain a selection of carefully chosen keywords for SEO purposes. This will help Google and other search platforms classify your website based on the products or services you wish to sell.
You also need to roll up your sleeves and do some busy technical work by either designing a website yourself on one of these new user-friendly platforms like WordPress or by hiring a coder or developer to help you design your website from scratch. 
The website should have a navigation bar to help users get around, feature stunning imagery or content, and load within a few seconds or less to satisfy your users.