Ever feel like you don't know what to write about? Or that the research you've been doing needs something extra? Well, it turns out there are some fantastic tools for content research that can give you the knowledge you need to bring your writing project to life. In this post, we'll take a closer look at the 11 best tools for content research. Here are a few amazing content marketing statistics that will impress you:
90% of marketers

using content marketing plan to continue investing the same amount in the channel in 2022.

66% of marketers

increased their content marketing budget in 2022.

Publishing

16+ blog posts

per month results in 4.5X more leads when compared to publishing 0-4 monthly posts.
As you go through the list of options, consider how each tool could help uncover profound insights and help inform your work with new data points.
Whether you're an amateur writer just starting out or an experienced professional looking for things to try, this definitive guide will provide plenty of useful information. So if you're ready to step up your content research game, read on!
Ahrefs
With Ahrefs, you can perform keyword research, competitive analysis, backlink research, content research, rank tracking and web monitoring. By seeing what keywords your competitors rank for, it allows you to determine which keywords might work best for your content.
You can also see what content is performing well in your niche and analyze why and how it can work for your brand. From there, you can develop topics and ideas related to those keywords. There is a cost for this service, and it isn't cheap.
"Using Ahrefs. I use their keyword explorer tool. Usually, I start by typing in a broad keyword, and I sort the best opportunities through their "Having same terms" and "Questions" tabs that provide ready-to-use keyword ideas that are easy to rank for and have a high volume opportunity." – Jakub Kliszczak of Channels
Google Trends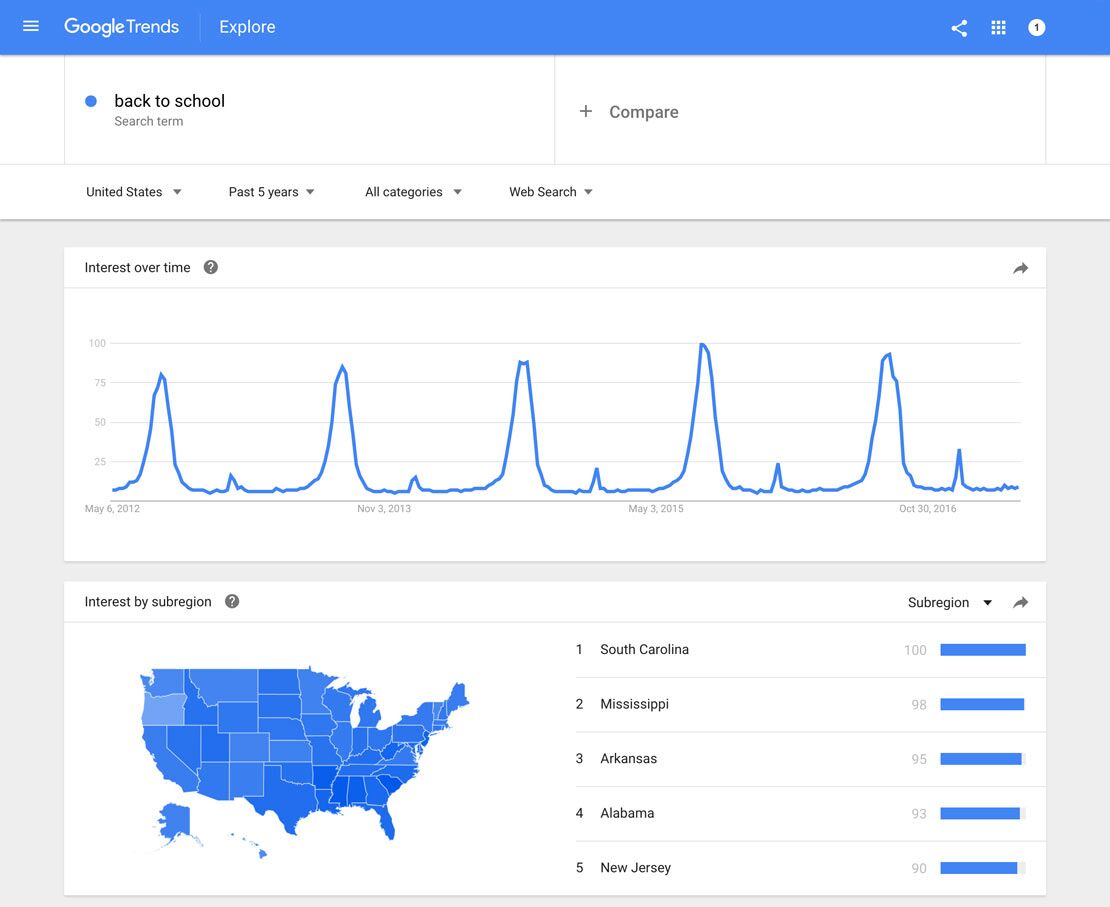 Everyone loves Google and Google Trends even takes that up a notch. One of the best free tools for content research, it is worth checking out.
You can see what everyone is searching for. You can see recently-trending searches, what was most searched for in past years, and there are stories about big topic searches like Coronavirus and the American census.
Even more remarkable, you can check out the data visualization project, where you can use data to tell your own stories. This free service opens up the gates for you to find very trending topics you can take and use in your content.
"Google has many services to provide analytics and Google trend is one of the best options out of them to find trending topics for your blog posts. You can search for any topic and can receive the data based on location, time period, category, and search type hence in this way you can check out the volume it is receiving. It not only provides the data of how many people show interest in a distinct topic but also offers comprehensive information on the related topics and queries. Google trends can also assist you in locating extremely targeted keywords for your focus market." – Nidhi Joshi of iFour Technolab
Buzzsumo
Buzzsumo is a spot where you can use its content insights to generate topics and ideas for your own content. You can take this further with them and monitor your content's performance.
They say the four critical components of their services are discovery, research, influencers and monitoring. You can try Buzzsumo for free by entering a topic, term or URL and, from there, see how it has engaged on social media and how much engagement it is getting. To get the real story, though, you'll have to pay and just like Ahrefs, it isn't cheap.
SEMrush
his award-winning marketing tool lets you do SEO research, track social media, conduct content audits and competitive research, and more. Again, you can play with SEMrush as you'd like to discover what keywords and what content is performing best and, from there, come up with ideas for your own blog and social media posts. Another pay-to-play tool that will hurt the wallet if your budget is limited.
"I use SEMrush's Topic Research Tool. You can start with one topic, and the tool will display all the relevant content clusters along with the highest performing posts for each group. Better yet, it also shows the number of shares, Facebook likes, and backlinks to trending articles." – Jung Nguyen of Small PDF
Exploding Topics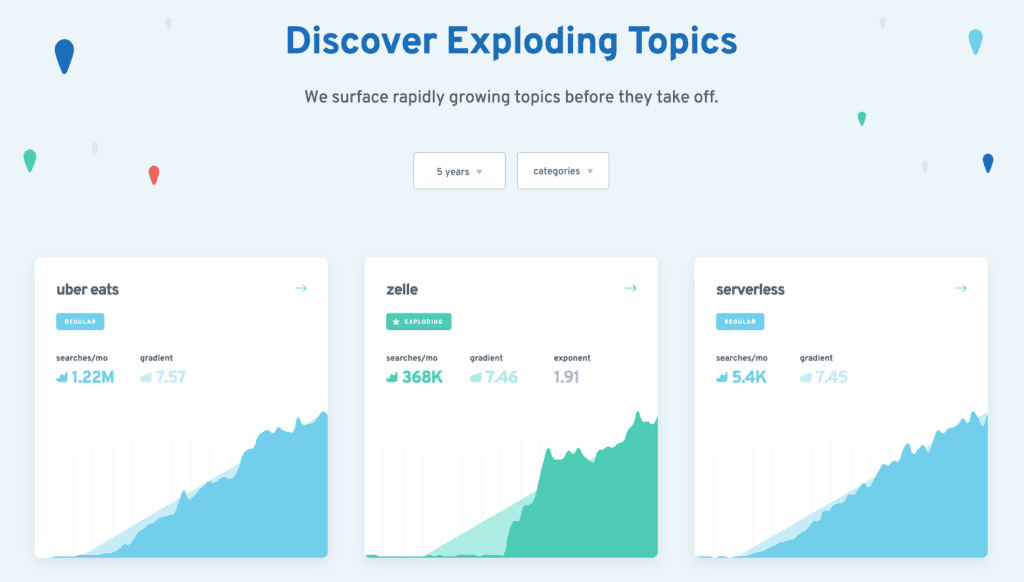 A new player on the scene, Exploding Topics lets you see trends blowing up (exploding) before they get big. With this type of service, you can write your content before all the significant players do so that your content is trending first.
The cool thing about this site is that you get a topic to work from, not just a keyword, and you can tailor your titles accordingly. This site does not yet have a cost and looks like an excellent resource for any marketer or content writer.
"The best way to find trending topics for your e-commerce blog is to use the new Exploding Topics tool. This tool searches the web for topics that have a recent and sharp rise in popularity but are not yet popular simply because they're so new. So the idea is to create content on the topic before it takes off, while having proof that take off is imminent. Powerful stuff as you'll be battling against no one for the top spot." – Nikola Roza
Ubersuggest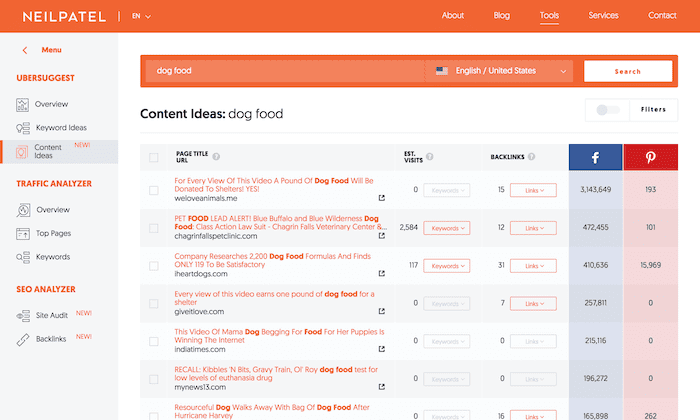 There's an Uber for everything now, it seems. And with this one, comes the advice of the lovely Neil Patel. With Ubersuggest, you can see what your competitors are doing right (and wrong) so you can follow suit.
Of course, you'll want to do better than they are and improve upon their tactics. You'll get SEO reports, keyword suggestions and even content ideas from what's being most shared in your niche. This pricing is on the low end of the scale for similar tools.
Low Fruit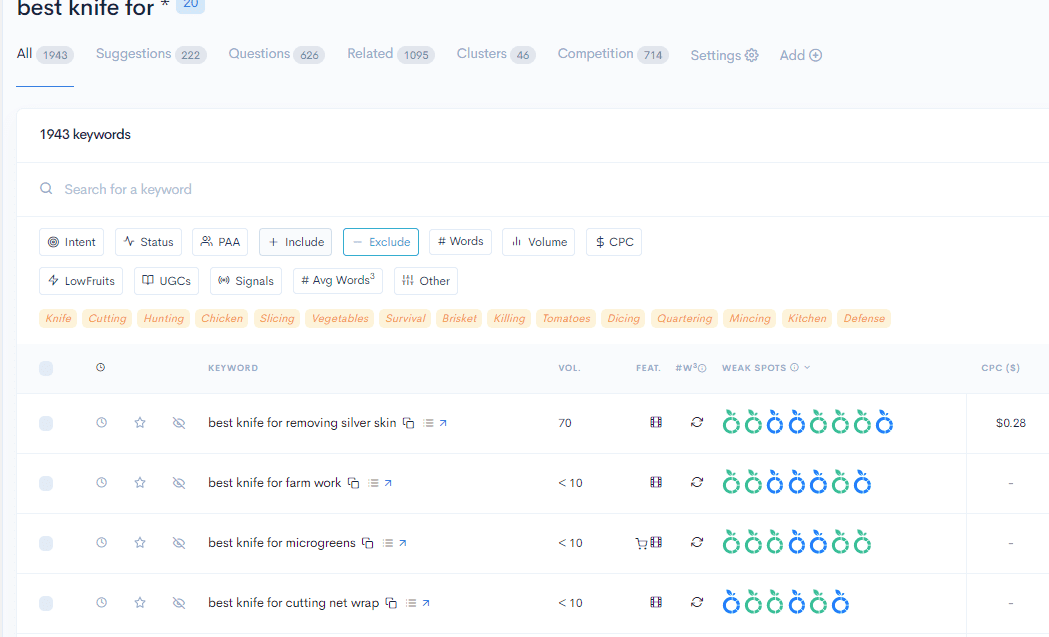 SEO, as every search engine enthusiast knows, can be an intimidating and time-consuming process, but luckily there are tools out there to help make the task of optimizing websites a bit easier.
If you want your website to achieve maximum visibility on search engines, then you need to look no further than Low Fruits. This cleverly designed and highly effective tool was designed to identify any "low hanging fruit" – meaning any easy optimization opportunities that can quickly improve organic search engine traffic.
With Low Fruits, users get graded searches of their keywords, page analysis reports detailing what needs improvement and recommended actions for addressing them, as well as instant link identification to uncover new link opportunities.
All these features combined make Low Fruit a wonderful asset to have in any SEO's toolbox – allowing its users to maximize website visibility with minimal effort! With Low Fruit's devoted user base growing by the day, it's safe to say that this clever tool has gotten the better of SEO obstacles for now!
Surfer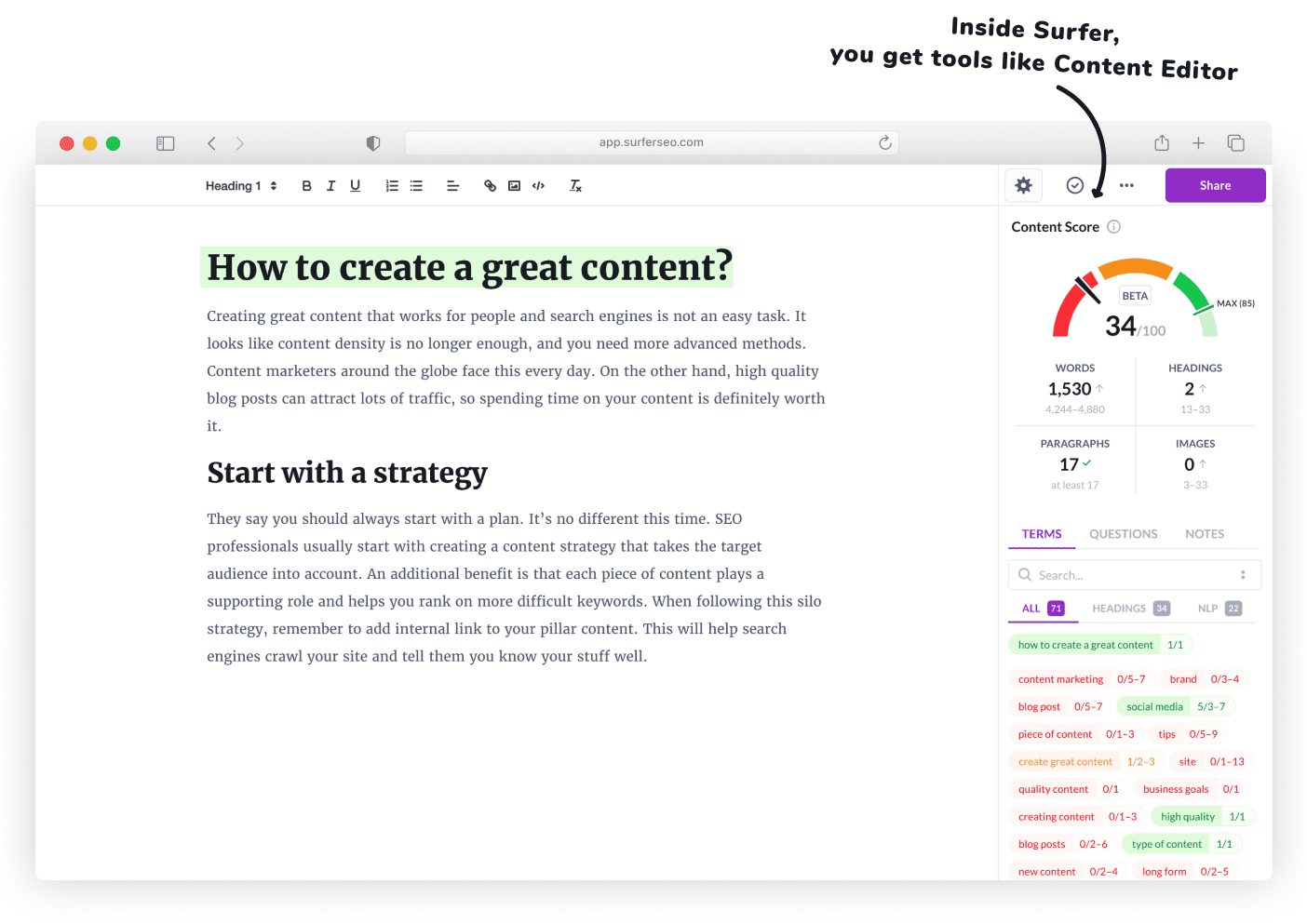 SEOs know that surfer tools are essential for staying ahead of the game. Web surfers are notoriously fickle, so keeping tabs on content trends is a must for creating successful strategies. That's where Surfer comes in – as one of the most comprehensive SEO tools available today, it helps SEOs stay on top of ever-changing algorithms and user preferences.
This can dramatically improve website optimization efforts and increase search engine visibility. It does this with advanced market research backed by deep data analysis and real-time performance tracking.
From monitoring keyword competitiveness to examining page speed metrics, the usability of Surfer's features is outstanding – not to mention funny! With its witty content tips, friendly interface, and ingenious algorithms, web surfers won't want to miss out on trying Surfer! It's no wonder why savvy SEOs consider it a go-to tool for their optimization needs.
The suite of features allows users to maximize their online presence and increase leads no matter the size or industry of your business. Whether you're new to SEO or a seasoned veteran, Surfer is the ultimate solution for taking your success online to unimaginable levels!
Feedly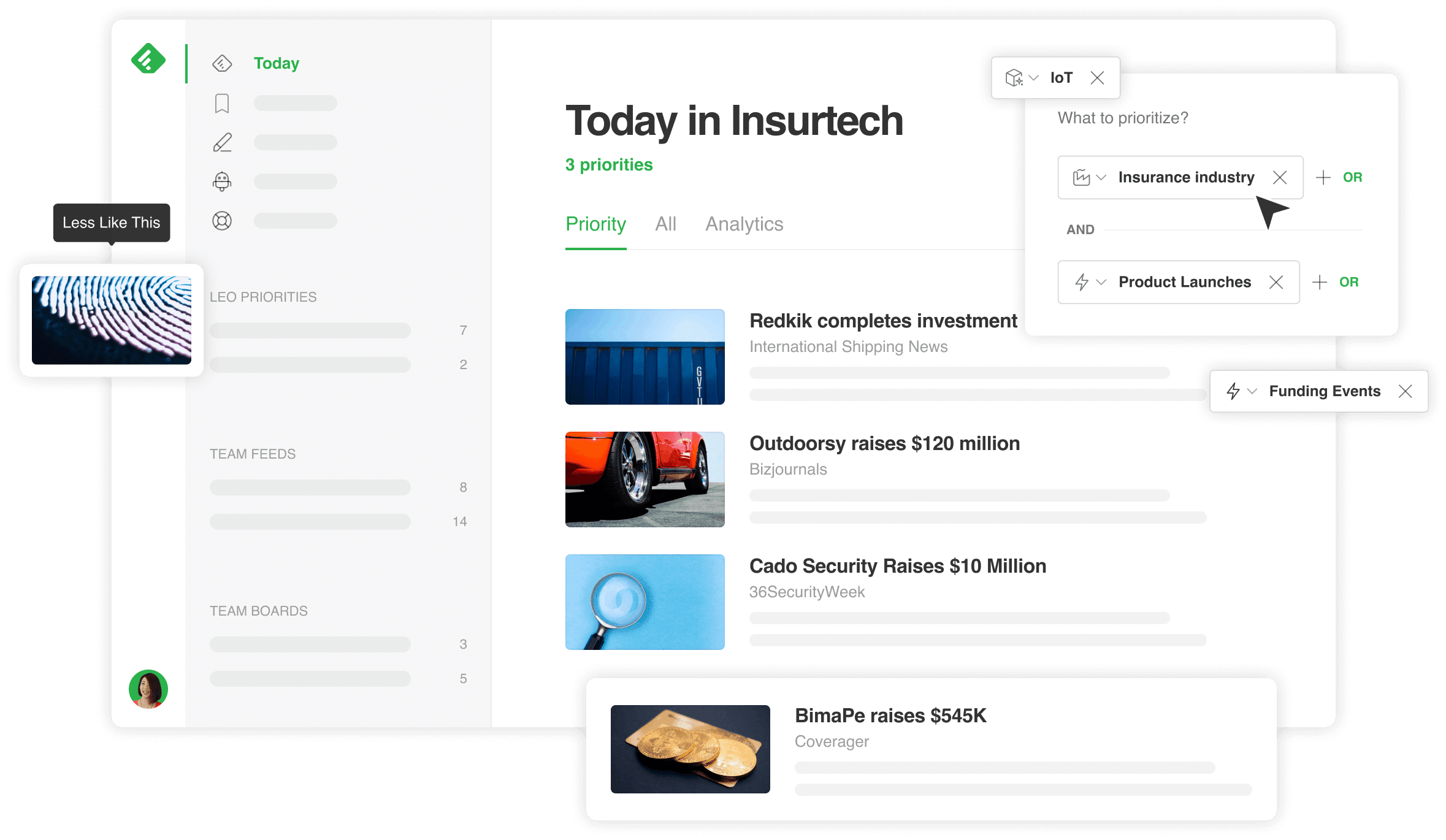 If content marketing is an integral part of your business strategy, then you need key tools to get the job done. Feedly is a great option: it's a content curation tool designed to save you time and energy when it comes to discovering new content.
Whether you're searching for industry news, trends and analysis, or inspiration for new campaigns, Feedly can help you find highly relevant resources and sources in just a few steps.
It's also incredibly user-friendly – set up custom feeds with tailored topics to address specific needs and objectives; share articles quickly and easily with your team and stakeholders; create automated rules so that only the most important content reaches your attention; or use AI-powered recommendations to explore some of the best content curated by Feedly itself.
With all these features available at your fingertips, this product is a definite asset if you're looking to get smarter about content marketing.
Over to You
If you don't want to purchase expensive tools for content research, don't have the bandwidth to learn how to use them, or just don't want to bother, the experts on our team can help. Feel free to order a free SEO audit for your website, and we will do keyword research and competitor analysis and create a strong content strategy for your website.
We have purchased these tools for content research, so you don't have to. Our team can use them to strategize the best topics for your blog or social media, and then we write them. Reach out to how we can take this work out of your hands.